EXPAND YOUR FLEXIBILITY KNOWLEDGE | UNLOCK NEW CAREER OPPORTUNITIES | NOURISH YOUR MIND AND BODY
WELCOME 
Becoming a Stretching Instructor is easier than you think
It doesn't take extreme flexibility to teach a  stretching class. Normal ranges of motion are quite simple to achieve and maintain. You just need to learn the proper techniques and when and how to apply them.
We developed a flexibility training method that focuses on calming the nervous system instead of contorting your body into uncomfortable and difficult to achieve positions.
As an Extensa™ instructor, you will:
Help your participants reduce stiffness and pain.
Provide your participants a class experience that reduces stress and anxiety symptoms.
Be a leader in an increasingly popular fitness niche.
Grow your clientele by attracting new segments of the population. 
Be responsible for creating positive and lasting changes in your participants health and wellness. 
Creating Real Change in Your Participants Lives is Extremely Rewarding!
Our Extensa™ Stretching Instructor Training will equip you with the skills, techniques and knowledge necessary to provide the best possible flexibility class experience for your future Extensa participants. 
GET STARTED TODAY!
In The Next Month, You Could…
be teaching a Stretching class to a whole new clientele
be personally enjoying pain-free movement and reduced muscle tension
be enjoying countless positive feedback from your current participants
Adding a new class to your fitness schedule doesn't have to drain you. Extensa classes will help your body recover and grow your audience all at the same time.
TESTIMONIALS
What our Instructors have to say...
"I am so glad to have found Extensa as I wanted to add a stretch class to my teaching skills. I thought I could probably wing it but in the end I decided to take a certification anyway. And I'm glad I did! ...I've also learned so much about the human body and it's made me a better instructor no matter what format I teach. I loved the program so much I became a master trainer! "
- Melanie Boucher,
Extensa master trainer
"I love the balance Extensa brings to my life. While teaching it, I find it so beneficial to myself as well as my participants...and I really feel that it has helped prevent injuries throughout my high diving career."
- Lysanne Richard,
Extensa instructor & Professional High Diver
"Extensa has allowed me to better connect with my body and have more control over my movements...which makes it an even more effective workout compared to the traditional stretching class I attended before I became an Extensa instructor. Teaching it is also a unique experience and participants are very satisfied with the benefits they feel after the class."
- Cynthia Legris, Extensa instructor
INTRODUCING
The Extensa™ Stretching Instructor Training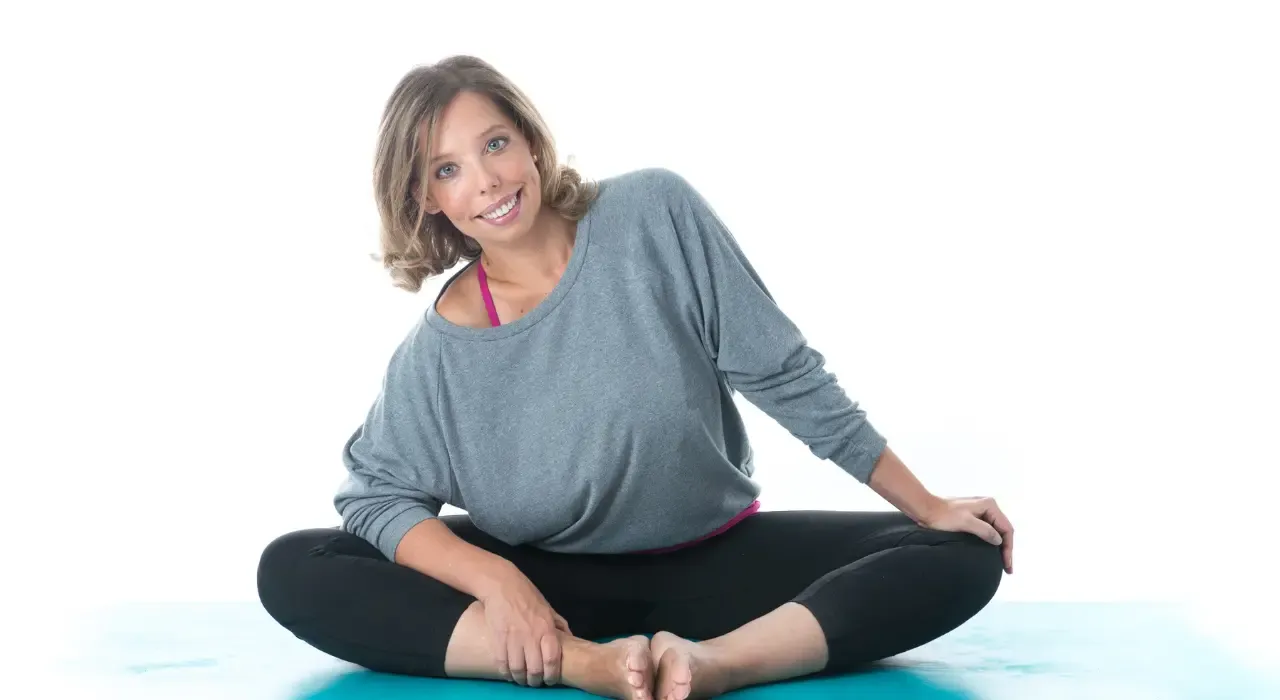 Are You Ready To Offer A New Program That Will Change You And Your Participants Lives?
Our instructor training course will teach you everything you need to know to become a competent and sought after flexibility instructor. You'll learn how to:
Improve and maintain flexibility
Teach an effective and fun 60 minute Stretch class 
Perfect your cueing, teaching and communication skills
Becoming an Extensa instructor distinguishes you to fellow fitness professionals, future employers and prospective participants. You'll gain a competitive advantage in the fitness industry's ever expanding market.
TRANSFORM YOUR CAREER TODAY!
The Extensa™ Stretching Instructor Training Course
Do you have a continuing education program?
Do you offer the course in any other languages?
Do you have a general FAQ section?
Do you have in person instructor trainings?
Do you offer a FREE instructor training course in exchange for hosting a 1 day live training?
A Sample of Some of the Modules in Our Instructor Training Course...
The following modules are delivered as theory and practical lessons. 
MODULE 4
The Basics of Flexibility
Learn everything you need to know about flexibility. This module introduces you to the term and what it actually means. You'll also learn :
The 3 types of flexibility and why it's important to focus on all three
The many factors that affective flexibility
The flexibility cycles
How flexibility reduces injuries
You'll finish this module with new knowledge of what flexibility really is, how we lose it and how to gain it back!
MODULE 5
Techniques & Training
This is where you will learn the tools you'll need to achieve lasting flexibility results. In these lessons, you'll learn:
The Extensa principles of flexibility
The Extensa techniques and how to apply them to every exercise
The Extensa Stretching program
The stages of an Extensa class
How to construct an Extensa class
You'll finish this module with the know how to create a full body flexibility class from scratch.
MODULE 6
Communication
The secret to being an excellent instructor is how you interact with your participants. In these lessons, you'll learn:
Proper cueing techniques
Class etiquette
Effective teaching skills
Music selection and playlist examples
You'll finish this module with a better understanding of what it takes to be an effective leader.
MODULE 7
Practical
For many, the goal is to learn a pre-choreographed class they can begin teaching immediately. In these lessons, you'll learn:
A 60 minute pre-choreographed Extensa class. That includes the full routine and a breakdown of each exercise
Transitions, rest positions and modification options
Our Exercise description manual (each exercise is one full page of information)
At the end of this module, you'll be equipped to teach a full body Extensa class.
MODULE 8
Safety Considerations
Safety should always be your number one priority. In these lessons, you'll learn:
Common occurrences that happen during a fitness class and how to handle them
How to protect yourself as an Extensa instructor
Overstretching realities and myths
At the end of this module, you'll feel confident in handling situations that arise during your class.
Our Stretching Instructor Course Is For You If...
You are interested in helping the population improve their flexibility and well-being
You are interested in expanding your flexibility knowledge and skills
You are interested in advancing and growing your career
You are interested in building new relationships and becoming a part of a community that is in high demand
You want to nourish your body while delivering professionally crafted programs
YES, I'M READY!
Stretching for Fitness Instructors
Take Your Group Classes to the Next Level with Flexibility Training Techniques and Exercises!
LET'S GO!